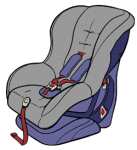 The Hillsdale Police Department Traffic Bureau offers a Car Seat Inspection Program for Hillsdale Residents. The Car Seat Inspection Program allows residents to have their child's car seat installed, or existing car seats inspected, by one of the Department's CERTIFIED Child Car Seat Installation Officers. Sgt. Matthew Buesser and P.O. Amanda Turrin are graduates of the State's Child Car Seat Installation Course. As a result, these officers, and ONLY these officers, are trained on child car seats and how they are to be properly used in a motor vehicle.
Sgt. Buesser or P.O. Turrin is able to answer questions about the placement of a car seat, the requirements as they apply to a child's weight and/or height, as well as the other varying components of a proper car seat installation.
Sgt. Buesser & P.O. Turrin are available for a child car seat installation by appointment only.
Please complete the form below to have an officer contact you and schedule your car seat inspection